Sterilization Wire Basket
Sterilization Wire Basket
Sterilization wire basket material: disinfection baskets of using low carbon steel wire, 302, 304, 304 l, 316, 316 l stainless steel of high quality material such as processing and into.
Sterilization wire basket manufacturing:

stainless steel Crimped Wire Mesh, Stainless Steel Welded Wire Mesh, Stainless Steel Woven Wire mesh, stainless steel mesh, argon-arc welding and so on.
Sterilization wire basket features:
1.Adopt stainless steel material, surface treatment of electrolytic polishing processing, durable, bright as a mirror, no rust, no variant.
2.Using the micro resistance welding and seamless butt welding technology, make the product no highlight solder, no hurt, no burrs, no shedding, safe use.
3. The grid design for water or steam penetration, guarantee the cleaning and sterilization effect.
4. Baskets can be stacked to use multiple network.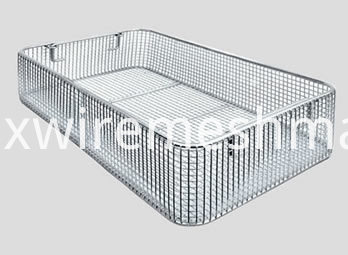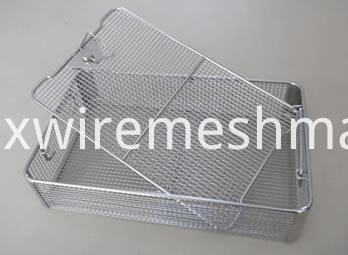 Baskets Specification:
Woven & Welded Wire Mesh tray (DIN)
Code
Length
Width
Height
Code
Length
Width
Height
WITD-1
120mm
250mm
50mm
WITD-8
480mm
480mm
60mm
WITD-2
240mm
250mm
50mm
WITD-9
540mm
252mm
60mm
WITD-3
480mm
250mm
50mm
WITD-10
240mm
250mm
70mm
WITD-4
480mm
480mm
50mm
WITD-11
480mm
250mm
70mm
WITD-5
510mm
254mm
50mm
WITD-12
520mm
330mm
75mm
WITD-6
240mm
250mm
60mm
WITD-13
480mm
250mm
100mm
WITD-7
480mm
250mm
60mm
Perforated side instrument tray (DIN)
Code
Length
Width
Height
Code
Length
Width
Height
PIT-1
226mm
226mm
60mm
PIT-14
498mm
230mm
75mm
PIT-2
240mm
250mm
60mm
PIT-15
540mm
250mm
75mm
PIT-3
370mm
230mm
60mm
PIT-16
226mm
226mm
100mm
PIT-4
410mm
250mm
60mm
PIT-17
240mm
250mm
100mm
PIT-5
480mm
250mm
60mm
PIT-18
370mm
230mm
100mm
PIT-6
498mm
230mm
60mm
PIT-19
410mm
250mm
100mm
PIT-7
510mm
250mm
60mm
PIT-20
480mm
250mm
100mm
PIT-8
540mm
250mm
60mm
PIT-21
498mm
230mm
100mm
PIT-9
226mm
226mm
75mm
PIT-22
540mm
250mm
100mm
PIT-10
240mm
250mm
75mm
PIT-23
226mm
226mm
150mm
PIT-11
370mm
230mm
75mm
PIT-24
370mm
230mm
150mm
PIT-12
410mm
250mm
75mm
PIT-25
498mm
230mm
150mm
PIT-13
480mm
250mm
75mm
Welded wire mesh tray (SPRI / ISO)
Code
Length
Width
Height
Code
Length
Width
Height
WITS-1
120mm
250mm
60mm
WITS-7
480mm
300mm
60mm
WITS-2
240mm
250mm
60mm
WITS-8
250mm
170mm
70mm
WITS-3
320mm
230mm
60mm
WITS-9
340mm
250mm
70mm
WITS-4
360mm
250mm
60mm
WITS-10
450mm
340mm
70mm
WITS-5
460mm
320mm
60mm
WITS-11
480mm
250mm
100mm








Looking for ideal Medical Sterilization Basket Manufacturer & supplier ? We have a wide selection at great prices to help you get creative. All the Surgical Sterilization Wire Basket are quality guaranteed. We are China Origin Factory of Disinfect Metal Basket. If you have any question, please feel free to contact us.
Product Categories : Wire Mesh Basket And Cage