Surgical Instrument Tray for Washing & Sterilizing
Surgical instrument tray, as its name implies, provides the most efficient method for cleaning and sterilizing surgical instruments. Our surgical instrument trays, made of 100% high tensile strength electro-polished stainless steel, are guaranteed to [last". Meanwhile, they are strictly inspected by hand to ensure superb weld security as well as surface smoothness.
Features:
Strong and durable structure without distortion.
Stackable structure to save larger space for you.
With drop down handles or folding handles for easy handling.
Protect-a-edge design without sharp edges.
Electro-polished after welding & fabrication for shiny appearance and removing burrs & weld splatters to ensure the safety of user.
Reduce the injection possibilities by decreasing the amount of contact.
Superb resistance against acids, alkali and other chemical liquids.
Excellent temperature, corrosion and wear resistance.
Non-toxic, no smell, healthy and eco-friendly.
Easy to clean and disinfect and air-dry.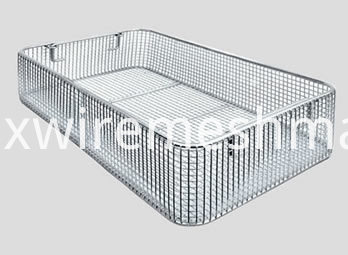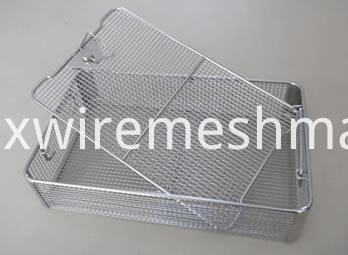 Applications:
Instrument washing, ultrasonic cleaning, sterilizing and inspection.
Baskets for easy storing and transporting.
Storing medicines and instruments in hospitals, labs and chemical factories.
Handling computer, military and aerospace component parts.
Dividing different types of medical components.
Details:
Material: 302, 304, 316, 316L stainless steel wire.
Surface treatment: Electro polished.
Packing: Packed in poly bags and cartons.
Wire diameter: 1mm to 8mm upon your request.
Hole size:

Micro mesh size: 2mm gap between each wire.
Small mesh size: 4mm gap between each wire.
Standard mesh size: 6mm gap between each wire.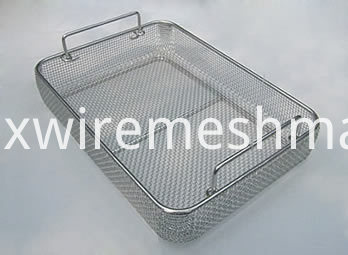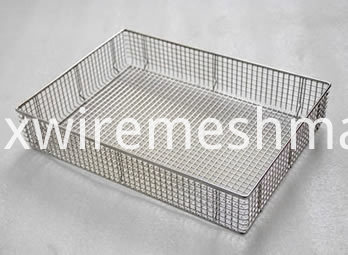 Specification:
Woven & Welded Wire Mesh tray (DIN)
Code
Length
Width
Height
Code
Length
Width
Height
WITD-1
120mm
250mm
50mm
WITD-8
480mm
480mm
60mm
WITD-2
240mm
250mm
50mm
WITD-9
540mm
252mm
60mm
WITD-3
480mm
250mm
50mm
WITD-10
240mm
250mm
70mm
WITD-4
480mm
480mm
50mm
WITD-11
480mm
250mm
70mm
WITD-5
510mm
254mm
50mm
WITD-12
520mm
330mm
75mm
WITD-6
240mm
250mm
60mm
WITD-13
480mm
250mm
100mm
WITD-7
480mm
250mm
60mm
Perforated side instrument tray (DIN)
Code
Length
Width
Height
Code
Length
Width
Height
PIT-1
226mm
226mm
60mm
PIT-14
498mm
230mm
75mm
PIT-2
240mm
250mm
60mm
PIT-15
540mm
250mm
75mm
PIT-3
370mm
230mm
60mm
PIT-16
226mm
226mm
100mm
PIT-4
410mm
250mm
60mm
PIT-17
240mm
250mm
100mm
PIT-5
480mm
250mm
60mm
PIT-18
370mm
230mm
100mm
PIT-6
498mm
230mm
60mm
PIT-19
410mm
250mm
100mm
PIT-7
510mm
250mm
60mm
PIT-20
480mm
250mm
100mm
PIT-8
540mm
250mm
60mm
PIT-21
498mm
230mm
100mm
PIT-9
226mm
226mm
75mm
PIT-22
540mm
250mm
100mm
PIT-10
240mm
250mm
75mm
PIT-23
226mm
226mm
150mm
PIT-11
370mm
230mm
75mm
PIT-24
370mm
230mm
150mm
PIT-12
410mm
250mm
75mm
PIT-25
498mm
230mm
150mm
PIT-13
480mm
250mm
75mm
Welded wire mesh tray (SPRI / ISO)
Code
Length
Width
Height
Code
Length
Width
Height
WITS-1
120mm
250mm
60mm
WITS-7
480mm
300mm
60mm
WITS-2
240mm
250mm
60mm
WITS-8
250mm
170mm
70mm
WITS-3
320mm
230mm
60mm
WITS-9
340mm
250mm
70mm
WITS-4
360mm
250mm
60mm
WITS-10
450mm
340mm
70mm
WITS-5
460mm
320mm
60mm
WITS-11
480mm
250mm
100mm








Looking for ideal
Woven Wire Mesh
Inmstrument Tray Manufacturer & supplier ? We have a wide selection at great prices to help you get creative. All the Welded Mesh Instrument Tray are quality guaranteed. We are China Origin Factory of Perforated Side Instrument Tray. If you have any question, please feel free to contact us.
Product Categories : Wire Mesh Basket And Cage