PP (polypropylene) Demister Pad
Polypropylene (PP) wire mesh demister is mainly composed of wire mesh blocks that made up of PP vapor-liquid filter, PP grille and supporting devices that fixed mesh blocks. This demister pad not only be able to filter out larger liquid foam suspended in the gas stream, but also can filter out smaller and tiny liquid foam. So it is widely used in environmental protection projects of flue gas desulfurization, factory production process of flue gas in addition to water, mist, dust, the removal of harmful substances, purifying the air, protecting the environment.
Purposes of PP demister pad:
Defogger is utilized for the entrained liquid droplets of the gas in the separation column, in order to ensure that there is the mass transfer efficiency, reduce the loss of valuable materials, and improve the operation of the compressor after the tower, so generally more defoggers are provided on the tower top. It can efficiently remove the 3 - 5um droplets. Setting defoggers between trays, is not only to assure that the mass transfer efficiency of the tray, but can also decrease the board spacing. Mesh mist eliminator is chiefly used for gas-liquid separator. Gas separation can also be used for the air filter. In addition, wire mesh can also buffer with all kinds of instruments in the instrument industry, in order to prevent radio interference electronic jammers.
Polypropylene demister pad features:
PP (polypropylene) mesh demister in the chemical process, the various gas-liquid contact devices gases leave the device often folder with many droplets, such as tower equipment, evaporator, generally it requires to separate entrained liquid droplets in the gas, so as not to affect the operation of the gas quality or the next process.
Polypropylene demister pad belongs to the inertial collision defogging typical products and is high efficient gas-liquid separation equipment. It has superior efficiency to demist fog, vapor, oil and gas, simple structure, porosity, small pressure drop, light weight, convenient installation, operation, and maintenance features.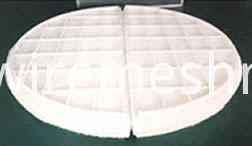 PE (Polyethylene) Demister Pad
Characteristics of PE (polyethylene)
Referred to as PE, it is ethylene prepared by polymerization of a thermoplastic resin.
In industry, it also includes a small amount of ethylene and α-olefin copolymer. Polyethylene is odorless, non-toxic, feels like wax with exceptional resistance to low temperature performance (the lowest temperature of -70 to -100 ℃), good chemical stability, the ability of most of the acid-base erosion (impatience with oxidizing properties acid).At room temperature it is insoluble in common solvents, small water absorption, excellent electrical insulation properties.
Polyethylene is extremely sensitive to environmental stresses (chemical and mechanical action), heat aging resistance. The polyethylene nature depends on the molecular structure and density. The adoption of different methods of production of the product can be in different densities (0.91 ~ 0.96g / cm3). Polyethylene is available by conventional molding method of thermoplastics material processing. It is predominantly used to make films, containers, pipes, monofilament, wire and cable, and other daily necessities.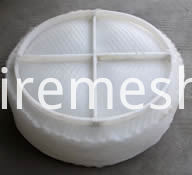 Looking for ideal Polypropylene Demister Pad Manufacturer & supplier ? We have a wide selection at great prices to help you get creative. All the Polyethylene Demister Pad are quality guaranteed. We are China Origin Factory of PE Demister Pad. If you have any question, please feel free to contact us.
Product Categories : Knitted Wire Mesh